Meet Our Veterinary Team
Dr. Sue, Practice Owner, DVM
Dr. Susan Bartz, or "Dr. Sue" as she is more affectionately known by friends and clients alike, knew by the third grade that all she wanted to be when she grew up was a veterinarian.. Now, some 50+ years later, she admits she still loves what she does for a living and cannot imagine doing anything else!

Born and raised in the heart of America's Dairyland in Green Bay, Wisconsin, Dr. Sue had her first experiences with animals on the dairy farm where her father lived as a child. Her interest in veterinary medicine ultimately led her to Purdue University, where she received an athletic scholarship, excelling in both the classroom and on the basketball court. An NCAA Postgraduate Scholarship allowed her to further her animal experience while she pursued a master's degree in animal science at Montana State University. Her academic "career" finally came to a close at Iowa State University, where she obtained her Doctor of Veterinary Medicine degree in 1988.

After moving to Indianapolis in 1990 and working as an associate veterinarian for 12 years, Dr. Sue finally gave in to an "inner voice" that moved her to pursue the establishment of her own animal hospital. With the help and support of friends and clients alike, The Neighborhood Veterinarian Animal Hospital became a reality. The hospital's name not only reflected its location, but also its goal to be an integral part of the local community.


Although owning and operating an animal hospital keeps her extremely busy, Dr Sue also manages to save some of her "free" time to enjoy a variety of other hobbies and volunteer opportunities. She was an active member of both the Indianapolis Symphonic Choir and Indianapolis Arts Chorale for many years, and is currently a member of the Board of Directors for the ISC. She's even performed the National Anthem at a number of amateur and professional sporting events! She supports and is a strong advocate of both CCI(Canine Companions for Independence) and ICAN(Indiana Canine Assistance Network) and their efforts to provide licensed and professionally trained service dogs. She's an active member of North United Methodist Church and is proud of the active role her church plays in the Indianapolis community. Her ties to Purdue University are still strong, where she is a member of the John Purdue Club, the President's Council, and a past member of the Athletic Advisory Council. She was even named to "The Legends of Mackey" display when the arena celebrated its 50th anniversary this past year, as one of the top 50 women's basketball players of all time! She has become an avid cyclist, and has participated in a number of adventures across the Midwest including several century(100 miles in one day)bike rides. And, if there's any time left(!) she loves to escape back to the mountains of Montana where she enjoys hiking in Glacier National Park.


Dr. Sue shares her home with her three "kids" - Digger, Clyde, and Lacy - all special kitties she's rescued through the years. She gladly welcomes the opportunity to help you with your "special kids" as the Neighborhood Veterinarian is totally committed to providing all of its clients and their pets with the best of "Professional service and personal care"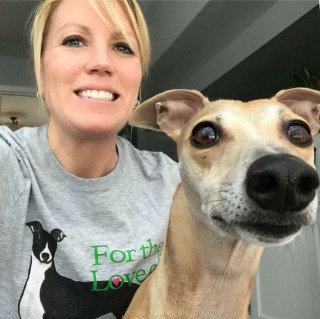 Annie, Staff Manager
Annie graduated from Purdue University in 1998 with a degree in Aquatic Sciences. Her love for fresh water fish changed to companion animals when she took her first job in the bacteriology department at The Animal Disease Diagnostic Lab at Purdue. Another career change came with a move to Indianapolis where she started as a Veterinary Assistant for Dr. Sue. Over the last several years Annie has become a familiar face to the clients of The Neighborhood Vet. She oversees many of the daily responsibilities of the staff as well as a direct contact for client communications. Annie has a soft spot for puppy behavior and senior pet wellness.

Annie lives in Carmel with her devoted husband and two young boys that keep her on her toes. You will often find a slew of whippets in tow as well! Most weekends are spent watching her kids play sports, whippet racing, running, sewing and enjoying her husband's cooking!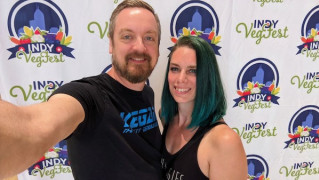 Amy, Veterinary Assistant
Amy graduated from IUPUI with a degree in Psychology. To pay for school, she started working as a veterinary assistant in 2002 and fell in love with the job. Her main interest is in dentistry, but she loves the 'gross' parts of the job. She's married to her loving husband, John, and they enjoy traveling, cooking, relaxing by the pool and enjoying a nice glass of bourbon or wine. They adopted a vegan lifestyle in 2012 and during the summer months grow most of their own food. Amy has recently gained a love for health and fitness after joining Orange Theory Fitness, which in turn helps offset the wine and bourbon!


Amy and John share their home with 4 rescue dogs and 1 rescue cat….so far! Klyde(Great Dane), Bits (shepherd mix), Anja (cocker spaniel), Cinder (cocker spaniel) and Klondike (he's a cat, but don't tell him that!).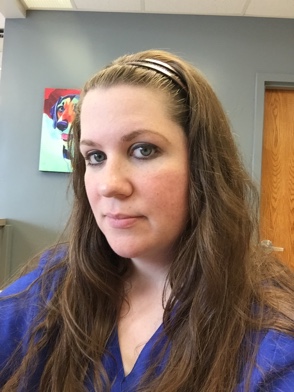 Susie, Veterinary Technician
Susie graduated from Harrison College in 2010 with an Associates degree in Veterinary Technology. Spent 6 years at another veterinary clinic in Indianapolis before joining the Neighborhood Veterinarian Team in May of 2016.

Susie is a married mother of 3 two legged kids and four legged pointer mix named Emma.

In her free time Susie enjoys spending time with family, painting, and working on her health and fitness.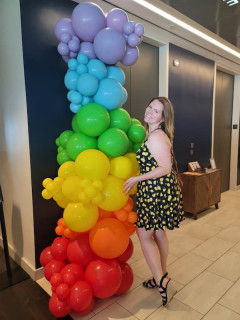 Lace, RVT
Lace Richey RVT, is a 2017 graduate of Harrison College Veterinary Technician program and has been a team member of The Neighborhood Vet since 2016. Since she was a little girl, born and raised in Indianapolis, she aspired to some day work with animals. She began her journey into animal care when she worked with horses in Downtown Indy as a carriage driver - and this position inspired her to get her education as a veterinary technician.

In her free time, she finds new places to visit, things to do, concerts to attend, and keeps her youth with her fiancé, Ryan. She has two rescue dogs, Sweetpea and Sandy, and hopes to some day convince (or trick) Ryan into thinking that they also need a cat!